PLANT GROWTH CHAMBER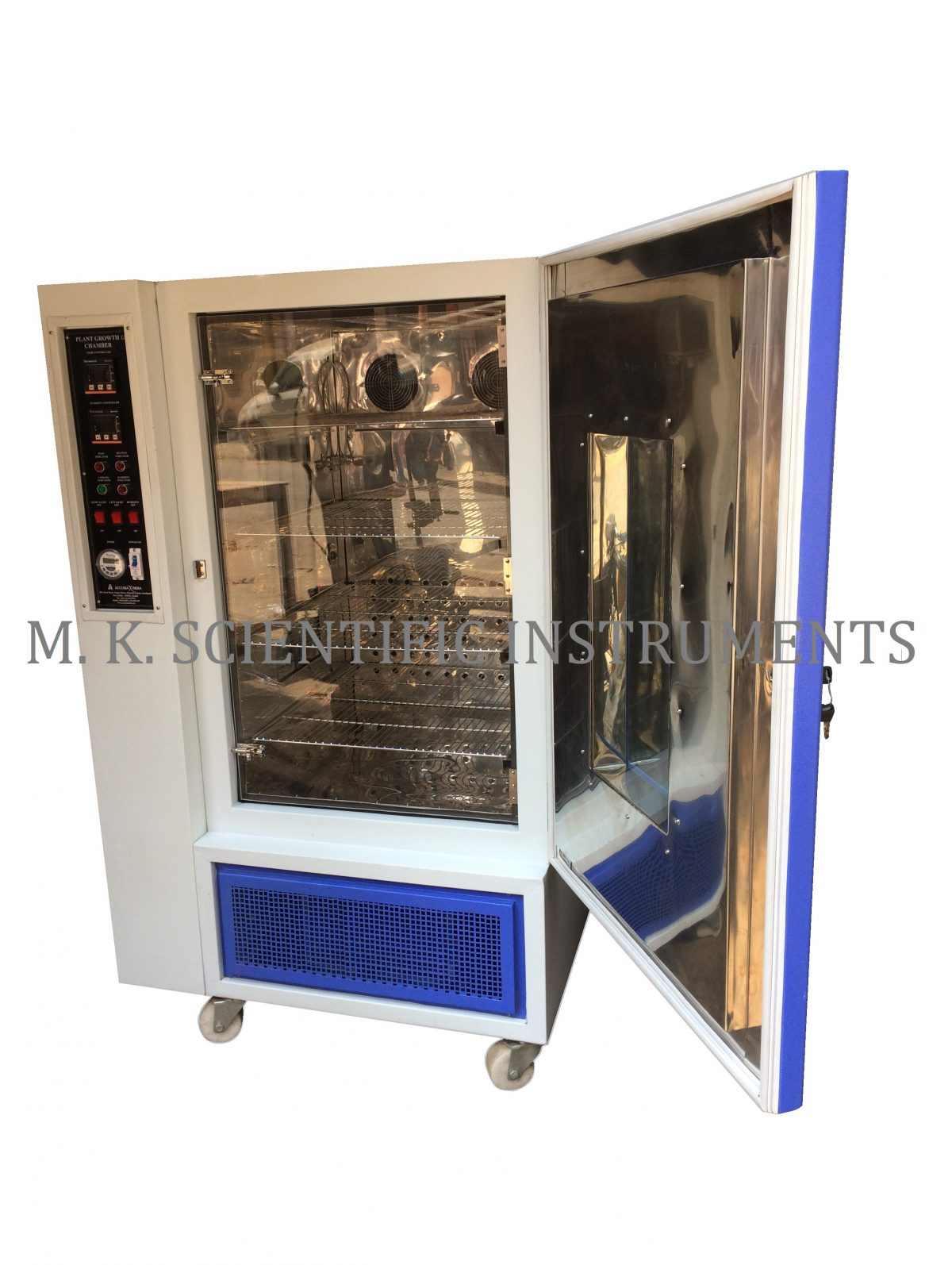 MODEL: MKSI-133-SERIES
Plant Growth Chamber by M.K. Scientific Instruments is come with durable and rugged design for delivering excellent quality performance. Plant Growth Chamber is made with double walled construction and are fully insulated with polyurethane foam to reduce running costs. The exterior chamber is made of high grade mild steel with powder coated finish. This coating keeps safe the unit from rust and normal scratches. The internal chamber is made of high grade corrosion resistant stainless steel. Each Plant Growth Chamber is delivered with number of shelves to keep the object in the units. The number of these shelves may vary model to model or size of the unit. Generally 2 to 4 shelves are provided with these units as per size and capacity. These shelves are made of aluminum sheets of stainless steel with polished layer.
CONSTRUCTION
Double walled
Inner Body: Inner chamber made of Stainless steel.
Outer Body: outer chamber develop using high grade mild steel with powder coated finish. This coating keeps safe the unit from rust and normal scratches.
Insulation between inner & outer wall with polyurethane foam (PUF) to reduce running costs.
Temperature Range: 5°C to 60°C with temperature accuracy of ±1°C as well as humidity control from 55% to 95%
Illumination: Exterior Illumination with 5 Levels Light Control (0%, 25%, 50%, 75% And 100%).
Temperature Controller: The Temperature is totally microprocessor based P.I.D. or Digital Temperature Controller cum Indicator controlled for accurate temperature rating.
Illumination: Exterior Illumination with Fluorescent Tubes.
Programmable :Timer
Air Circulation: Forced convection system through use of blowers & motors that provides for superior mixing as well as strong dispersion.
Safety Feature: Thermostat based safety device
Shelves: Stainless steel perforated/wire road shelves adjustable and sliding.
Door: Door with synthetic rubber gasket & Door has a glass viewer window.
Heater: Tubular U type air heater.
Compressor: Hermetically Sealed Air Cooling Compressor (CFC Free).
Humidity: By Steam Process
Humidity Range: 5% above Ambient From 55% to 95% RH+5%RH at Cool Temperatures.
Power: Power input to be 220-230 Volts AC, 50/60 Hz fitted with Indian plug.
TECHNICAL SPECIFICATIONS:-
MODELS

MKSI -133

MKSI -133-A

MKSI -133-B

MKSI -133-C

MKSI -133-D

Size In Cu.Ft

4

6.1

10

12

15

Internal Sizes
 ( W X D X H  In MM)

455 X 410 X610

505 X 415 X 830

570 X 550 X 875

650 X 580 X 900

700 X 640 X 900

Capacity  in Liters

112 L

171 L

280 L

336 L

420 L

Nos. of Shelve / Tray

2

2

3

4

4

Insulation  (PUF)

70 To 100 MM

Temperature Range

+5°C To 60°C.

Accuracy

 ±1°C

Compressor

Hermetically Sealed Air Cooling Compressor

Air Circulation

Forced Convection System

Power Supply

220-230 Volts, 50 Hz Single Phase
OPTIONAL ACCESSORIES
GMP models

With inner chamber & outer body complete made of Stainless Steel

Temperature Recorder

By Weekly temperature recorder

Temperature Alarm

For High and Low Temperature Variations

Printing Facility

By Built in Mini Printer to record temperature.

SMS Alert

Alert on Mobile in case of any deviation

HMI with PLC

Full touch programmable function for controlling High temperature , low temperature , low battery , open the door , blocking filters , system failure.

Data Logger

RS-485/RS232 communication ports, cables, window based software with inbuilt data recording.

Graphic LCD

Jumbo LCD with Programmable function

Communication Port

Communication Port with interface and data cable to download data to your PC.

Regulated Voltage

By Voltage stabilizer
Rest available in all size depends upon customer requirement.
Models with Exterior & Interior stainless steel (304) will be available on request.