BOD INCUBATOR CUM SHAKER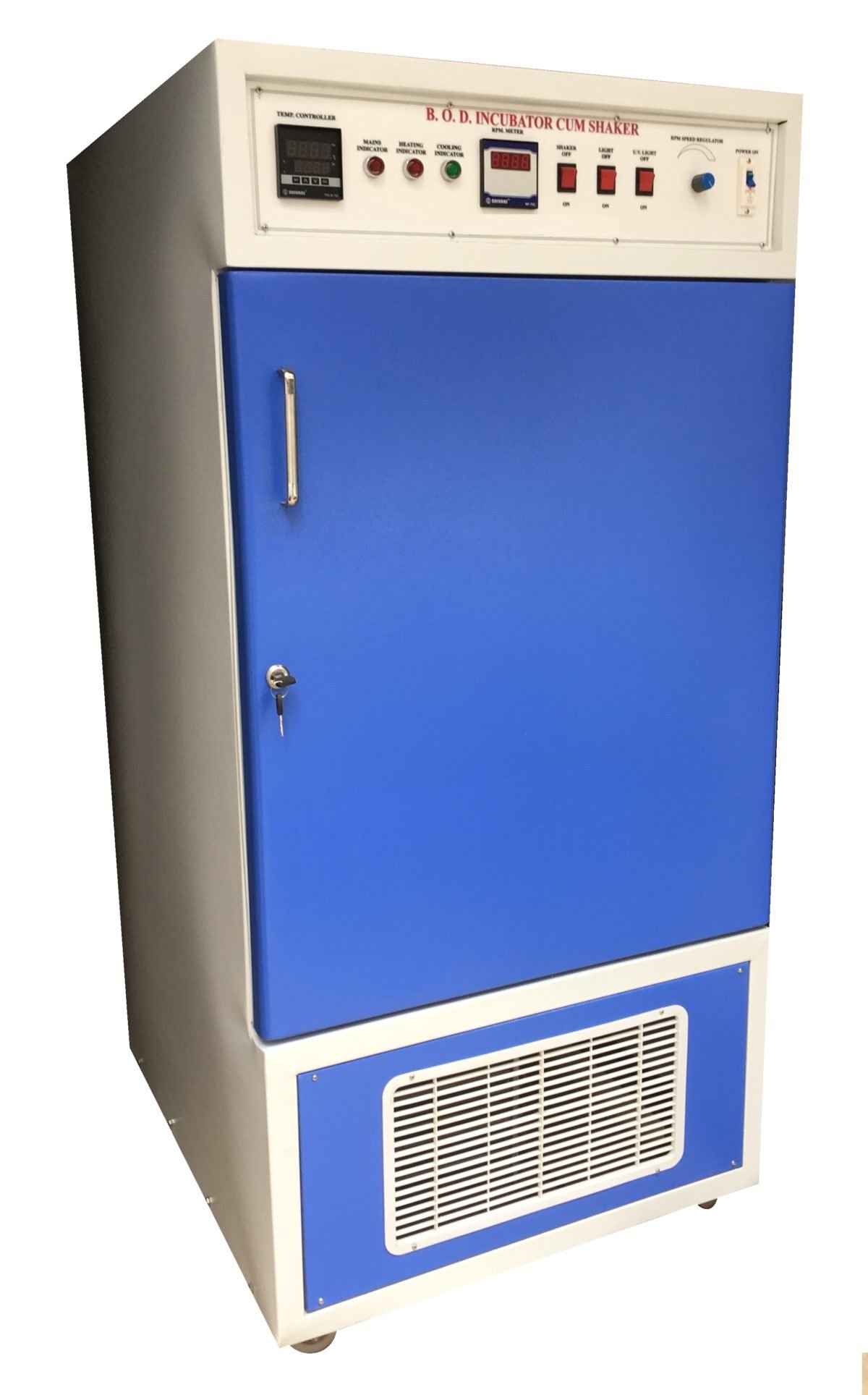 MODEL: MKSI-113
We are manufacturer & supplier of Incubator Shaker. Incubator Shaker is one of most important lab equipment in many research centers, hospitals and other pharmaceutical labs, Clinical, Environmental, Biotechnology, Medical, Petroleum, Industrial Applications by M.K. Scientific Instruments are known as exceptional Incubator Shaker specially designed for testing applications. M.K. Scientific Instruments as an experienced manufacture in INDIA.
CONSTRUCTION
Double walled
Body: Inner chamber made of stainless Steel (SS 304)
Outer Chamber is powder coated mild steel with anti – rusting paint having Front door with a glass window.
Capacity: 280 Letters
Volume : 10 CFT
Inner Chamber Size: 600x600x750 (WxDxH) in mm
Shaking Trays Size : 510 x 510 mm
Shaking Amplitude: 25 mm
Shaking motion: Orbital, Permanent Magnet DC Drive for continuous operations.
Shaking speed range: High power motor with shaking speed range of Up to 250 rpm (adjustable)
High Density PUF insulation for tighter temperature controls between inner & outer wall to avoid any heat loss.
Air Circulation with balanced blowers.
Type: Forced Convection Type
Platform for incubation and a shaking incubator.
Wheels for easy movement.
Temperature range: temperature range minimum is from Ambient +5°C to 60°C ± 0.5°C.
Microprocessor Based Digital Temperature Indicator-cum-Controller with PT-100 better sensor with accuracy of ± 1°C in maintaining the temperature.
Cyclic Timer: Fitted with cyclic programmable timer
Cooling is done with ISI marks compressor CFC Free, Environment friendly.
On/Off switch, Indicator, Digital controller etc.
Universal platform to accommodate different size of flask and holder.
Safety Controller: Audio Visual alarm – Overshoot or undershoot of temperature or rpm deviates from set value.
RPM Display: Digital Display
Power: Power input to be 220-230VAC, 50Hz fitted with Indian plug.
OPTIONAL ACCESSORIES
GMP models

With inner chamber & outer body complete made of Stainless Steel

Temperature Recorder

By Weekly temperature recorder

Temperature Alarm

For High and Low Temperature Variations

Printing Facility

By Built in Mini Printer to record temperature.

SMS Alert

Alert on Mobile in case of any deviation

HMI with PLC

Full touch programmable function for controlling High temperature , low temperature , low battery , open the door , blocking filters , system failure.

Data Logger

RS-485/RS232 communication ports, cables, window based software with inbuilt data recording.

Graphic LCD

Jumbo LCD with Programmable function

Communication Port

Communication Port with interface and data cable to download data to your PC.

Regulated Voltage

By Voltage stabilizer
Rest available in all size depends upon customer requirement.
Models with Exterior & Interior stainless steel (304) will be available on request.