SEROLOGICAL WATE BATH THERMOSTATIC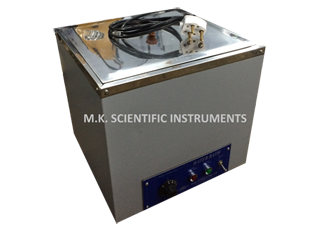 MODEL: MKSI-121-SERIES
We hold expertise in manufacturing and supplying and exporting a superior quality range of water baths. M.K. Scientific Instruments water baths are heated chambers used for many industrial areas applications environmental applications, academic facilities, clinical laboratories, food technology, government research laboratories and waste water facilities etc. by M.K. Scientific Instruments are known as exceptional Water baths specially designed for testing applications. M.K. Scientific Instruments as an experienced Water Bath , Cooling /Refrigerated Water Bath , Lab Constant Temperature Refrigerated Liquid Water Bath , Serological Water Bath , Rectangular Water Bath Double , Rectangular Water Bath Single Wall Electric , Water Bath Shaker Incubator Deluxe , High Precision Water Bath , Tissue Flotation Bath , Oil Bath manufacture in INDIA.
CONSTRUCTION
Double walled
Inner Body: Inner chamber made of Stainless steel.
Outer Body: outer chamber develop using high grade mild steel with powder coated finish. This coating keeps safe the unit from rust and normal scratches.
Insulation between inner & outer wall with mineral wool/ glass wool thick to avoid any heat loss.
Comes with glass mercury thermometer based temperature display provision
Temperature Range: Temperature ranges from few degrees above ambient temperature to 97°C ±2°C.
Temperature Controller: The Temperature is totally microprocessor based P.I.D., /Thermostat or Digital Temperature Controller cum Indicator controlled for accurate temperature r ating.
It is Suitable for holding 2, 4, 6, 8 racks
Power: Power input to be 220-230 Volts AC, 50/60 Hz fitted with Indian plug.
Safety Feature: Thermostat based safety device.
Perforated cover of stainless steel based diffuser shelf finish
Shelves: Stainless steel perforated/wire road shelves adjustable and sliding.
Heater : Tubular U type air heater
OPTIONAL: Stirring Available with or without Stirring Arrangement with the Help of FHP Stirrer
TECHNICAL SPECIFICATIONS:-
MODELS

MKSI -121

MKSI- 121-A

MKSI- 121-B

MKSI- 121-C

Internal Sizes
 ( L X W X D  In MM)

300 x 250 x 175

330 x 300 x 175

455  x 300 x 175

605 x 300 x 175

External Sizes
( L X W X D  In MM)

430 x 355 x 430

455 x 405 x 430

584 x 405 x 430

736 x 405 x 430

Suitable for Rack

2 Racks

4 Racks

6 Racks

8 Racks

Capacity  In Liters

14 L

18 L

25 L

32 L

Insulation 

mineral wool / glass wool

Temperature Range

Ambient +5°C to 97°C. ±2°C.

Power Supply

220-230 Volts AC, 50/60 Hz Single Phase
Rest available in all size depends upon customer requirement.
Models with Exterior & Interior stainless steel (304) will be available on request.