LYOPHILIZER (FREEZE DRYER)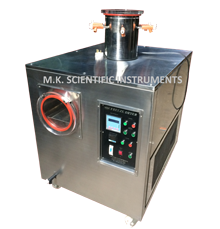 MODEL: MKSI-134-SERIES
Freeze-drying (also known as lyophilisation) is a dehydration process typically used to preserve perishable material or make the material more convenient for transport. Freeze-drying works by freezing the material and then reducing the surrounding pressure to allow the frozen water in the material to sublime directly from the solid phase to the gas phase. Freeze Dryers with the Cascade Refrigeration systems reach -80°C and are ideal for freeze drying samples with substances having a minimum melting point.
CONSTRUCTION
Features:
Available in two models -40°C and -80°C
Safety cut-off for vacuum pump
Easy cleanable trap and drying chamber
Well-arranged ports for convenient placement of flask
Efficient dual stage rotary vane vacuum pump
Castor wheels for easy movement
Capacity – 3.25 liters, 5.25 liters.
Optional Accessories
Secondary unit
Pre freezing attachment
Voltage Stabilizer -5kva.
Application:
Ideal for Laboratory research and development, small production freeze drying of food, blood plasma storage, pharmaceuticals and tissue culture.
Process development with intent to move process to clinical size freeze dryer.