STEAM STERILIZER VERTICAL AUTOCLAVE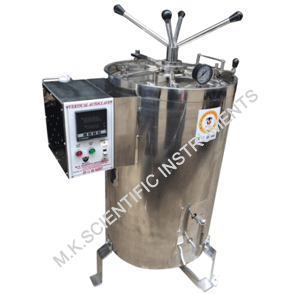 MODEL: MKSI-138-SERIES
We are manufacturer & supplier of High Quality Autoclave (Vertical). Autoclave is one of most important lab equipment in many research centers, hospitals and Medical , Pharmaceutical and Agriculture Institution by M.K. Scientific Instruments are known as exceptional High Quality Autoclave (Vertical) It is specially designed for Surgical Instruments, Rubber, Plastic Goods, Glassware, utensils, Hospital Dressing, Linen, etc.
CONSTRUCTION: High Quality Autoclave (Vertical) by M.K. Scientific Instruments is come with durable and rugged design for delivering excellent quality performance.
These units made of
Double walled chamber
Inner chamber and lid made of heavy gauge stainless steel SUS – 304 grade with organ welded joints and Exterior (Outer Body) made of Stainless steel SUS 304 grade mirror finished. Lid is made of thick stainless steel plate single piece and closed by wing nuts arrangement.
Gasket: Neoprene Rubber.
Microprocessor based, programmable feature with PID, 16 x2 character LCD display, 4 program key, one start/stop key, PT-100 3wire sensor, Automatic soak, purge, Exhaust setting, with alarm set.
Fiber Glass resin bonded wool insulation.
Redial locking system with pressure gauge, digital thermometer, spring loaded safety valve, steam release valve / cock, water level indicator, stainless steel perforated basket, water outlet, mains indication lamp and pedal lifting device.
Immersion type heating elements.
Automatic low water cut – off device / switch.
Pressure-5-20 Psi Automatic pressure control device
Temperature: Ambient to 121°C adjustable in steps of 1°C, digital type thermometer with timer.
Safety: Pressure safety valve, over temperature limiter, Anti dry scorch limiter, door interlock, over pressure limiter, current fuse.
Hydraulically tested up to 15 to 20 psi. (Adjustable).
Power Supply: 220/230V AC, 50/60 Hz.
Used In:
Laboratories, Hospital, Medical Institution, Research Institute, Garments, Manufacturing Companies, Chemical Unit, etc.
MODELS

MKSI -138

MKSI- 138-A

MKSI- 138-B

MKSI- 138-C

MKSI- 138-D

MKSI- 138-E

INTERNAL SIZES
 (DIA  X DEPTH IN INCH)

12" x 20"

14" x 22"

16"  x 24"

18" x 24"

20" x 30"

22" x 30"

CAPACITY  IN LITERS

37 L

55 L

79 L

100 L

154 L

187 L

HEATING LOAD

3.00 KW

3.00 KW

4.00 KW

6.00 KW

6.00 KW

6.00 KW

TEMPERATURE RANGE

Ambient to 121 °C adjustable in steps of 1°C, digital type thermometer with timer.

POWER SUPPLY

220-230 VOLTS, 50 HZ SINGLE PHASE
OPTIONAL ACCESSORIES
GMP models

With inner chamber & outer body complete made of Stainless Steel

Temperature Recorder

By Weekly temperature recorder

Temperature Alarm

For High and Low Temperature Variations

Printing Facility

By Built in Mini Printer to record temperature.

SMS Alert

Alert on Mobile in case of any deviation

HMI with PLC

Full touch programmable function for controlling High temperature , low temperature , low battery , open the door , blocking filters , system failure.

Data Logger

RS-485/RS232 communication ports, cables, window based software with inbuilt data recording.

Graphic LCD

Jumbo LCD with Programmable function

Communication Port

Communication Port with interface and data cable to download data to your PC.

Regulated Voltage

By Voltage stabilizer
Rest available in all size depends upon customer requirement.
Models with Exterior & Interior stainless steel (304) will be available on request.