TRAY DRYER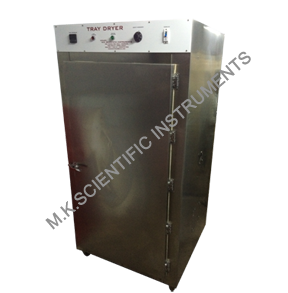 MODEL: MKSI-144-SERIES
We are manufacturer & supplier of Tray Dryer. This Tray Dryer offered by us is used for diverse applications like food, electrode, bakery, plastic & powders and drying of pigments. M.K. Scientific Instruments as an experienced manufacture in INDIA, We offer a precision engineered range of tray drying specially designed for uniform circulation of hot air in the drying chamber.
CONSTRUCTION
Triple walled
Inner Body: Inner chamber made of Stainless steel.
Outer Body: outer chamber develop using high grade mild steel with powder coated finish. This coating keeps safe the unit from rust and normal scratches.
Insulation between inner & outer wall with glass wool/ mineral wool thick to avoid any heat loss.
Temperature Range: Temperature ranges from 50°C to 200°C with temperature accuracy of ± 3°C.
Temperature Controller: The Temperature is totally microprocessor based P.I.D. or Digital Temperature Controller cum Indicator controlled for accurate temperature rating.
Air Circulation :Forced convection system through use of blowers & motors that provides for superior mixing as well as strong dispersion
Safety Feature: Thermostat based safety device.
Shelves: Stainless steel perforated/wire road shelves adjustable and sliding.
Heater : Tubular U type air heater
Power: Power input to be 220-230 Volts AC, 50/60 Hz fitted with Indian plug.
TECHNICAL SPECIFICATIONS:-
DETAILS

MKSI -144

MKSI-144-A

MKSI -144-B

MKSI -144-C

CAPACITY

12 TRAYS

24 TRAYS

48 TRAYS

96 TRAYS

NOS. OF FAN

ONE

TWO

TWO

TWO

NOS. OF MOTOR / HP

0.5

0.5

0.5

1

HEATING LOAD (K/W)
100°C / 150°C

4 KW

6 KW

6-9 KW

12-18 KW

NOS. OF DOORS

One

TWO

TWO

Two

NOS. OF RACK AND PLACEMENT OF RACK IN DRYER

1

2

2

4

SIZE OF TRAY

32" X 16" X 1 ¼"

POWER SUPPLY

AC 1PHASE, 220 V,

AC, 3 PHASE, 440 V, 4 WIRE +
Rest available in all size depends upon customer requirement.
Models with Exterior & Interior stainless steel (304) will be available on request